SH2-87 - SH2-88
(Volpecula)
Data: 1░ settembre 2014 - temp. 8░C. - umiditÓ 50%RH
Ora: 22.45-3.00 locali - 20.45-1.00 UT
LocalitÓ: Promiod (AO) - 1480m.
Strumentazione:
Atik383L+ monocromatica
Tecnosky Tripletto APO 115/800 - spianatore 3" - Rigel Focuser nFocus (campo fotografico 1,2░x 1░ - 1pixel=1,39 arcsec)
NEQ6-pro autoguida W.O. SD66 - QHY5L-II-M - PHD guiding
Sensore: -20░C
Pose: H-alpha 7nm 25x600" bin2 - Flat: 17 - Dark: 29 - Bias: 33
Dati DSS Live binning2:
Fondo cielo: 1.2
# stelle: 350
Deriva AR: 0 / -0.1 pixel
Deriva DEC: 0 / -1.8 pixel
Angolo di rotazione di campo: 0 / 0.028░
FWHM: 2.4
Curvatura di campo: <6%.
Dati autoguida PHD2: 0.51 pixel RMS
Note: 6 ore di ripresa con seeing discreto e trasparenza buona.
In alto SH2-88, in basso SH2-87.
Campo completo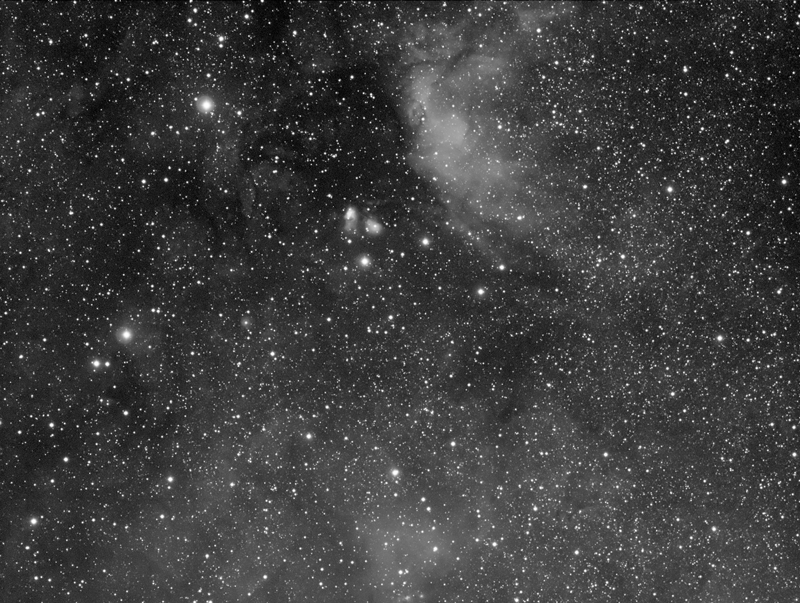 Questa Ŕ un immagine di riferimento, ottenuta con filtri a banda stretta, di SH2-88 dal sito di Bill Snyder, con l'identificazione dei piccoli oggetti nebulari vicino alla Sharpless principale.
22h totali di esposizione con un RC da 17"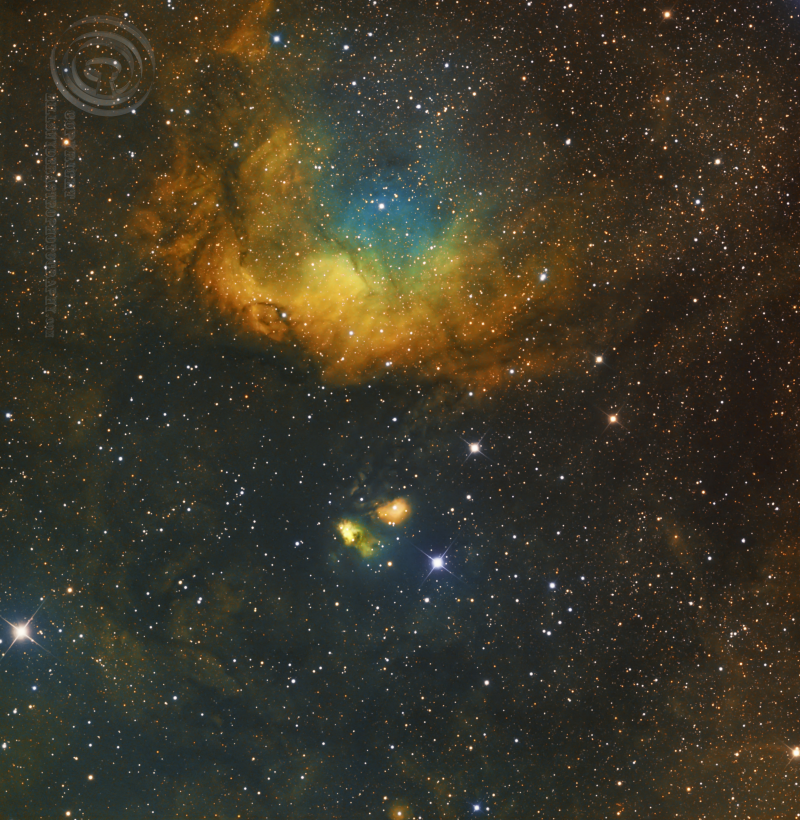 SH2-88 also known as LBN 139 is an area of nebulosity in the constellation Vulpecula about 7,800 light-years away.
It contains three separate star forming regions about 1 minute in diameter. The first began in a diffuse large nebula Sh 2-88A, then spread to the compact HII region Sh 2-88B1, ionised by an O8.5-9.5 V star, and then finally spread to the ultracompact Sh 2-88B2.
Scope Planewave 17in
Camera Apogee U16
Mount Paramount ME
Filters Astrodon Ha OIII SII
Exposures Ha7.3hrs OIII7.3hrs SII7.3hrs Ha OIII SII 20min subs Total 22hrs
Location Sierra Nevada Mountains CA. Heavens Mirror Observatory SRO 2013